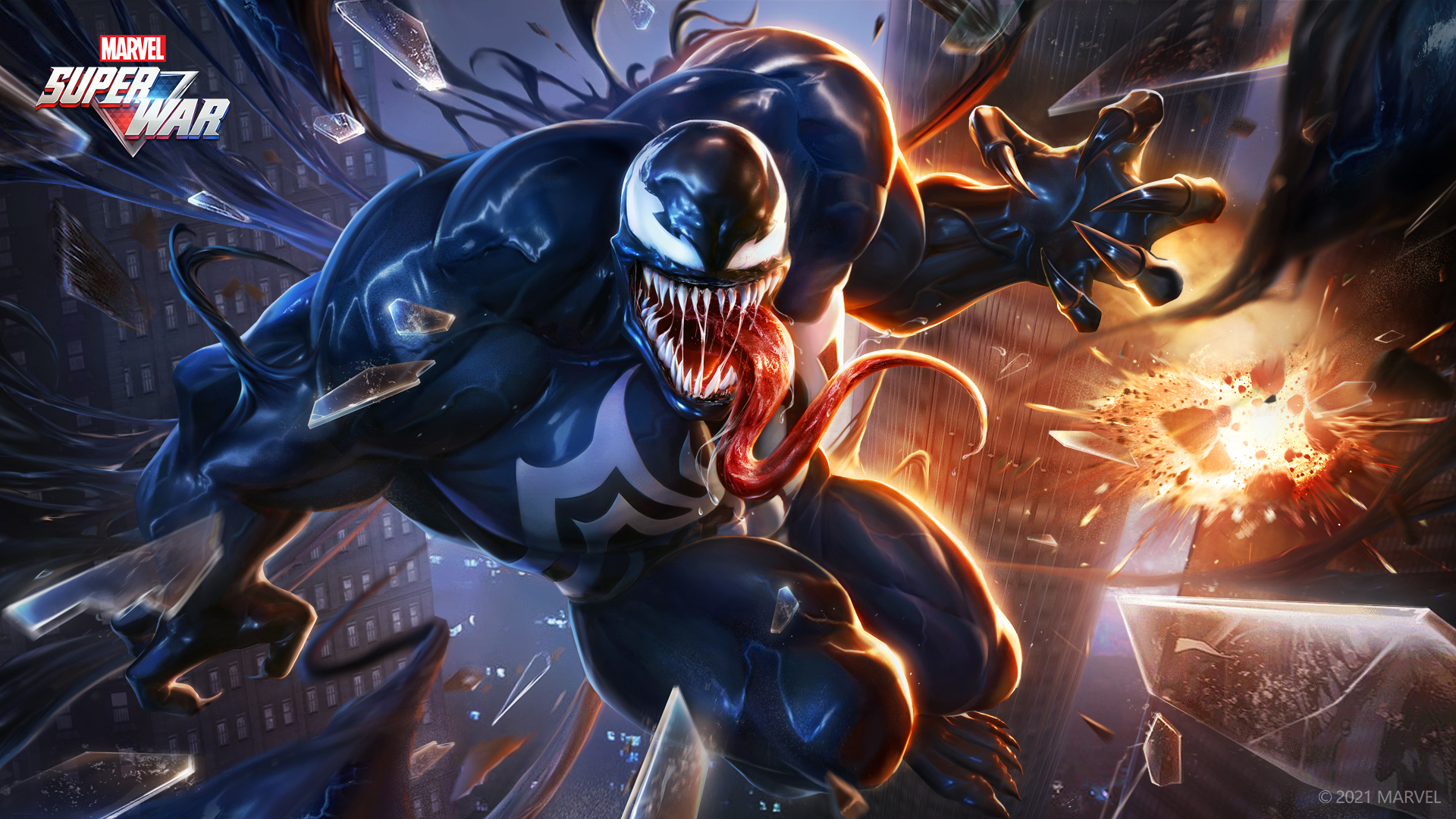 Marvel's first officially licensed MOBA mobile game, MARVEL Super War, begins its 7th season on July 1st, 2021! The symbiote anti-hero, Venom, will make his debut on the Wakanda Arena alongside a new Opposite Realm series skin for Doctor Strange! To celebrate the long-awaited release of Marvel Studios' Black Widow, the skins inspired by the film will also make a glorious return to the game!
The long awaited anti-hero Venom has finally joined MARVEL Super War! Venom is an extraterrestrial symbiote who forms an unlikely alliance with its journalist host, Eddie Brock. Possessing a myriad of abilities, Venom holds frightening powers that befit his massive, menacing presence. Behold and tremble in fear—Venom has entered the Wakanda Arena and is ready to wreak havoc!
The Opposite Realm series welcomes a new addition—Doctor Strange's epic skin Infernal Sorcerer. In this alternate universe, Doctor Strange made a pact with Dormammu and became an evil sorcerer wielding powers from the dark dimension. Falcon also receives a new epic skin in this season: Dragon Rider. Expanding his scaly wings and soaring through the clouds, Falcon's new silver armor shall rain draconic destruction upon his foes!
The Marvel Studios' Black Widow inspired skins will also make a limited-time return to MARVEL Super War in conjunction with the long-awaited theater release!
The new season has begun! Enter the Wakanda Arena TODAY and check out the new content!
< Join MARVEL Super War Right NOW! >
For more details, please visit our official website and social media pages:
Official Website: www.MARVELSuperWar.com
Facebook: https://www.facebook.com/MARVELSuperWar/
YouTube: http://www.youtube.com/c/MarvelSuperWar
*MARVEL Super War is currently available in countries and regions, including Thailand, Indonesia, Singapore, Malaysia, India, Japan, South Korea, Australia, New Zealand, Vietnam, Taiwan, Hong Kong, and Macao. *This game is not a global release title.
About Marvel Entertainment
Marvel Entertainment, LLC, a wholly-owned subsidiary of The Walt Disney Company, is one of the world's most prominent character-based entertainment companies, built on a proven library of more than 8,000 characters featured in a variety of media for over eighty years. Marvel utilizes its character franchises in entertainment, licensing, publishing, games, and digital media. For more information visit marvel.com. © 2021 MARVEL
About NetEase Games
NetEase Games is the online games division of NetEase, Inc. (NASDAQ: NTES and HKEX: 9999), developing and operating some of the most popular mobile and PC games in markets including China and Japan. As one of the world's largest incubators of quality online game content, NetEase Games is dedicated to supporting the growth of innovative studios around the globe and growing an international presence along the way. To complement its self-developed games and world-class R&D capabilities, NetEase Games also partners with other industry leaders including Blizzard Entertainment, Mojang AB (a Microsoft subsidiary) and other global game developers to operate some of the most popular international online games in China. For more information, please visit neteasegames.com.