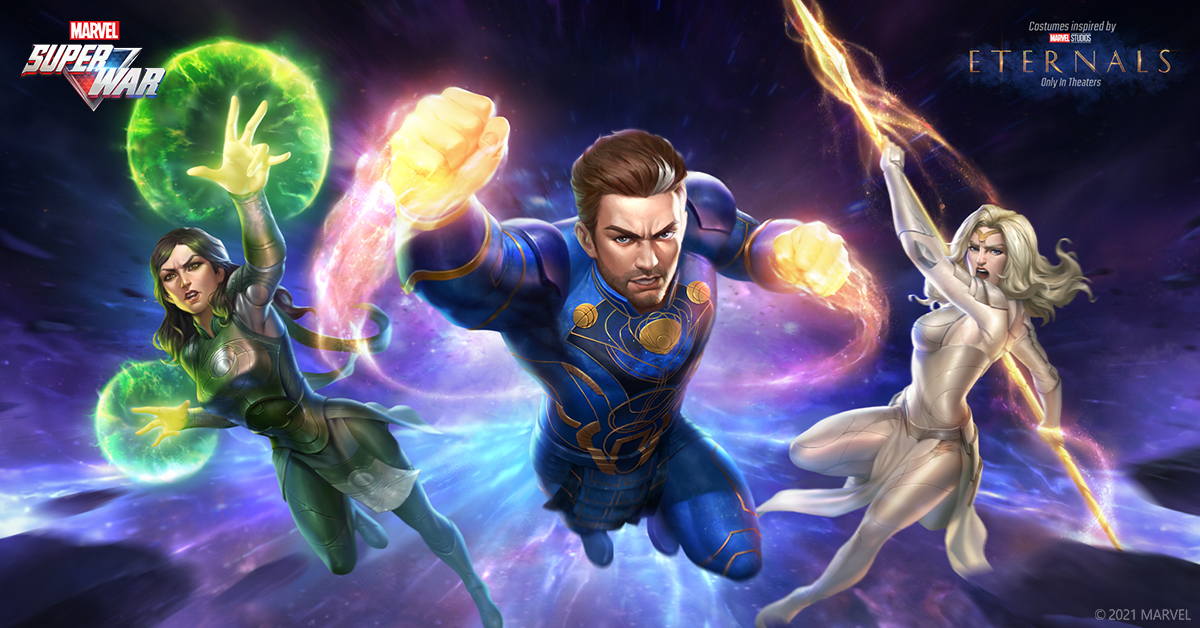 Marvel's first MOBA mobile game, MARVEL Super War, starts its new S8 season on November 4 with a host of brand-new content! To celebrate the premiere of Marvel Studios' Eternals, MARVEL Super War will launch a thematic event inspired by the film for the coming weeks, with heroes from the Eternals joining the battlefield! Let's find out what this season has to offer!
Immortals bursting with alien power, the Eternals have been living secretly among mankind on this planet for thousands of years. Now that these super heroes debut on the big screen, the new season of MARVEL Super War also begins at the same time with the Eternals' arrival on the battlefield of Wakanda! The one who takes the lead and will join the game as a Fighter is, Thena, an elite warrior who can manipulate cosmic powers to produce any weapon. In addition, two heroes from the Eternals, Ikaris and Sersi, will soon join the battle in this season. Stay tuned!
To celebrate the premiere of Marvel Studios' Eternals, MARVEL Super War will launch a series of updates for several weeks to inform players about the Eternals' past! During the event time, players can obtain mementos by finishing tasks, and learn about Eternal's secluded life as well as their past adventures. Meanwhile, don't forget to win bonuses such as avatar frame and lobby background themed with the Eternals! In addition, Marvel Studios' Eternals inspired skins for Thena, Ikaris and Sersi will be available in this season, don't miss it if you like it!
With the arrival of the new season, grand promotions in-game will come online too! Iron Man legendary costume "Planetary Armor" and several rare skins will offer time-limited discounts! Events like Lucky Wheel and Daily Log-Ins will also help you to win more rewards!
Now jump into the new season and explore all the new content the game has to offer!
< Join MARVEL Super War Right NOW!>
For more details, please visit our official website and social media pages:
Official Website: www.MARVELSuperWar.com
Official Facebook: https://www.facebook.com/MARVELSuperWar/
Official YouTube: http://www.youtube.com/c/MarvelSuperWar
*MARVEL Super War is currently available in countries and regions, including Thailand, Indonesia, Singapore, Malaysia, India, Japan, South Korea, Australia, New Zealand, Vietnam, Taiwan, Hong Kong, and Macao. This game is not a global release title.
About Marvel Entertainment
Marvel Entertainment, LLC, a wholly-owned subsidiary of The Walt Disney Company, is one of the world's most prominent character-based entertainment companies, built on a proven library of more than 8,000 characters featured in a variety of media for over eighty years. Marvel utilizes its character franchises in entertainment, licensing, publishing, games, and digital media. For more information visit marvel.com. © 2021 MARVEL
About NetEase Games
NetEase Games is the online games division of NetEase, Inc. (NASDAQ: NTES and HKEX: 9999), developing and operating some of the most popular mobile and PC games in markets including China and Japan. As one of the world's largest incubators of quality online game content, NetEase Games is dedicated to supporting the growth of innovative studios around the globe and growing an international presence along the way. To complement its self-developed games and world-class R&D capabilities, NetEase Games also partners with other industry leaders including Blizzard Entertainment, Mojang AB (a Microsoft subsidiary) and other global game developers to operate some of the most popular international online games in China. For more information, please visit neteasegames.com.