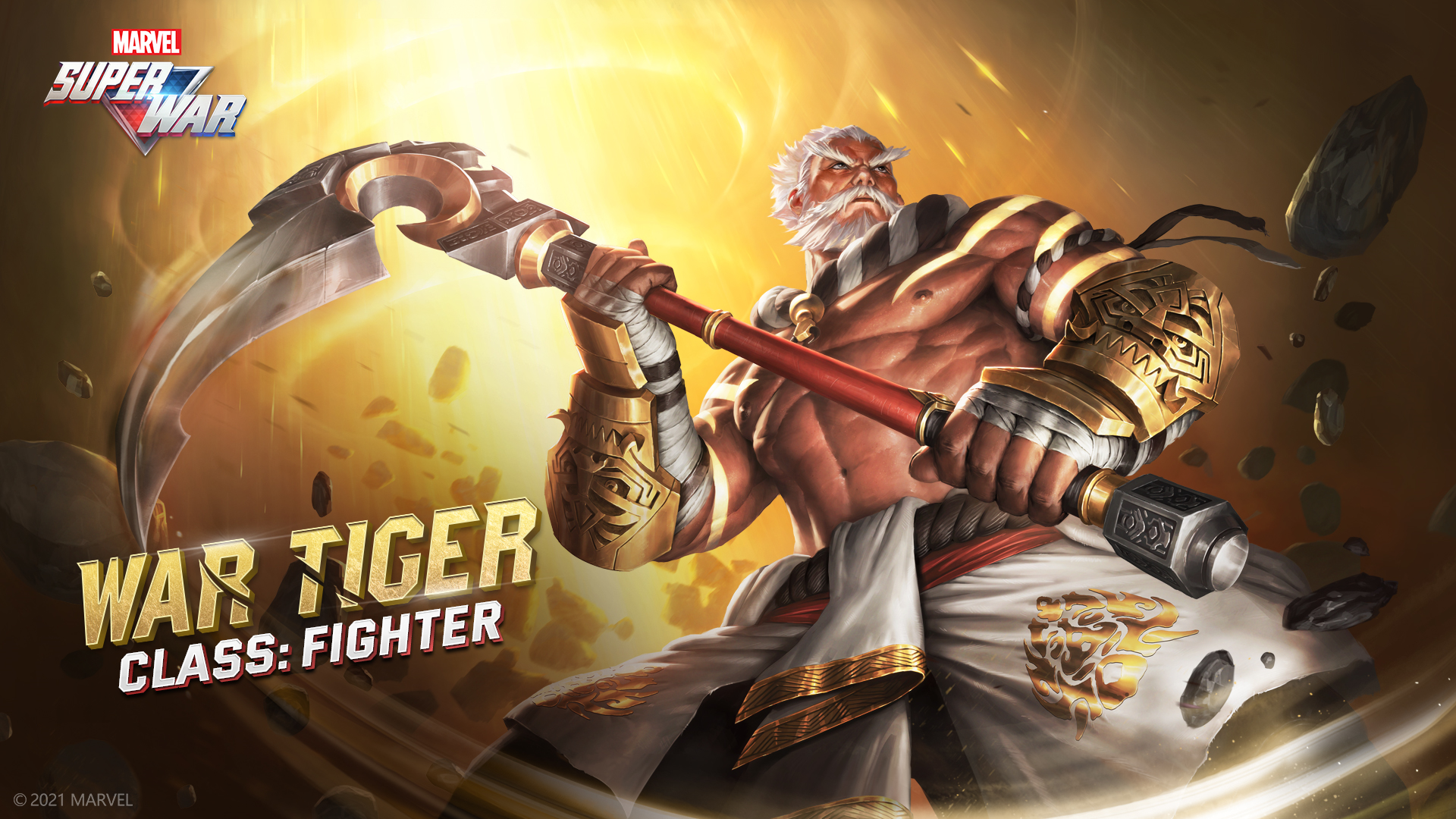 GUANGZHOU, China, April 15, 2021 - MARVEL Super War is commencing its sixth season on April 15, 2021 with a host of awesome new content! War Tiger, the Warrior of the Sky that acts as the Guardian of the West, will make his debut on the battlefield! Also freshly available are skins inspired by Marvel Studios' The Falcon and the Winter Soldier!
The eldest member of Warriors of the Sky, War Tiger will be joining the Wakandan battlefield. Leaping from the West, he slices through evil with the mystical Tiger's Fang. This ancient Thai general ensures the success of his fellow Warriors of the Sky with his unassailable power and seasoned combat experience.
To celebrate the release of Marvel's Studios The Falcon and the Winter Soldier, MARVEL Super War will introduce skins for both Falcon and Winter Soldier inspired by their appearances in the TV series. Winter Soldier's skin has been unveiled last month, while Falcon's skin will be released in the coming weeks!
Last but not least, this new Season also heralds the arrival of the new Savanna Pact series skins for Black Panther and Storm. Inspired by Wakanda's lore and aesthetics, these skins mimic traditional clothing worn by King T'Challa and Queen Ororo. The original functionality of Black Panther's armor is retained, but the designs have been refreshed with traditional Wakandan elements for the two costumes to perfectly complement each other.
Dive right into the new season and explore all the new content the game has to offer!
< Join MARVEL Super War Right NOW! >
For more details, please visit our official website and social media pages:
Official Website: www.MARVELSuperWar.com
Official Facebook: https://www.facebook.com/MARVELSuperWar/
Official YouTube: http://www.youtube.com/c/MarvelSuperWar
*MARVEL Super War is currently available in countries and regions including Thailand, the Philippines, Indonesia, Singapore, Malaysia, South Korea, Japan, Australia, New Zealand, Hong Kong, Taiwan and Macao. This game is not a global release title.
About Marvel Entertainment
Marvel Entertainment, LLC, a wholly-owned subsidiary of The Walt Disney Company, is one of the world's most prominent character-based entertainment companies, built on a proven library of more than 8,000 characters featured in a variety of media for over eighty years. Marvel utilizes its character franchises in entertainment, licensing, publishing, games, and digital media. For more information visit marvel.com. © 2021 MARVEL
About NetEase Games
NetEase Games is the online games division of NetEase, Inc. (NASDAQ: NTES and HKEX: 9999), developing and operating some of the most popular mobile and PC games in markets including China and Japan. As one of the world's largest incubators of quality online game content, NetEase Games is dedicated to supporting the growth of innovative studios around the globe and growing an international presence along the way. To complement its self-developed games and world-class R&D capabilities, NetEase Games also partners with other industry leaders including Blizzard Entertainment, Mojang AB (a Microsoft subsidiary) and other global game developers to operate some of the most popular international online games in China. For more information, please visit neteasegames.com.