MARVEL Super War Releases New Hero Doctor Strange to Kick Start the First Tournament Season!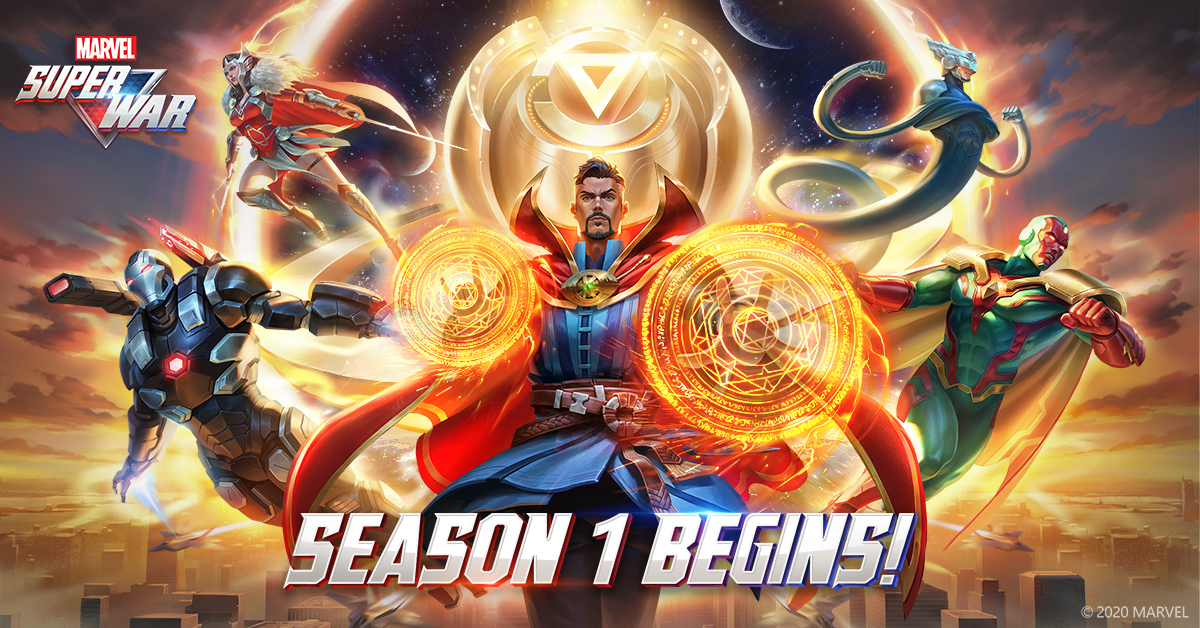 GUANGZHOU, January 16th, 2020 -- MARVEL Super War, the 5v5 MOBA for mobile developed by NetEase Games in collaboration with Marvel Entertainment, has been a massive success in SEA regions and has received critical acclaim from its thousands of players. Today, MARVEL Super War begins its first ever tournament season. This new update will not only unveil a highly anticipated hero – the world-famous sorcerer Doctor Strange, but also commence a refreshing epic skin series -- Space War that will pull you deeper into the Wakandan battlefield to explore many more gaming possibilities. Get a head start with this preview of upcoming new content!
As Season 1 commences officially, the new Hero Doctor Strange will embark on his own journey into MARVEL Super War! Armed with the Cloak of Levitation and Eye of Agamotto, the Sorcerer Supreme will prove himself one of the most powerful Energy Heroes on the Wakandan battlefield, giving players the power of the mystic arts to face the challenges of the new season.
Meanwhile, MARVEL Super War will be upgraded with its very first Battle pass -- Hero Assembly, offering a greater chance to obtain Magneto's Epic Skin by leading your mighty squad through many battles in order to complete specific quests. Get ready to assemble your friends and team up together on the Wakandan battlefield!
Finally, the Space War, a brand new series of epic skins, will soon blast off! Captain America and Black Panther will be the first to arrive with their Planetary Defender space suits. Majestrix Lilandra Neramani, ruler of the Shi'ar Empire, has become aware of the impending danger facing the multiverse. In her eyes, Earth's destruction will cease the constant collisions of the parallel universes. Thus, she has assembled the strongest squadron in the universe to destroy Earth. To confront the oncoming threat, Super Heroes have equipped themselves with entirely new space suits in order to make a proactive strike against their impending enemies. More about the core design concepts will be discovered as you further experience the nuances and finer details of these new skins.
The new season is well under way. Build your own team with friends and battle as your favorite Super Heroes. The new journey of Season 1 beckons!
<Assemble and Fight on Wakanda battlefield now!>
For more information about MARVEL Super War, visit:
Official website: www.MARVELSuperWar.com
Official Facebook: www.facebook.com/MARVELSuperWar/
Official Instagram: www.instagram.com/marvelsuperwar/
Official YouTube: www.youtube.com/c/MarvelSuperWar
About Marvel Entertainment
Marvel Entertainment, LLC, a wholly-owned subsidiary of The Walt Disney Company, is one of the world's most prominent character-based entertainment companies, built on a proven library of more than 8,000 characters featured in a variety of media over eighty years. Marvel utilizes its character franchises in entertainment, licensing, publishing, games, and digital media. For more information visit marvel.com. © 2020 MARVEL
About NetEase Games
NetEase Games is the online games division of NetEase, Inc. (NASDAQ: NTES), developing and operating some of China's most popular PC-client and mobile games. As one of the world's largest incubators of quality online game content, NetEase Games is dedicated to supporting the growth of innovative studios around the globe and growing an international presence along the way. To complement its self-developed games and world class R&D capabilities, NetEase Games also partners with other industry leaders including Blizzard Entertainment, Mojang AB (a Microsoft subsidiary) and other global game developers to operate some of the most popular international online games in China.